Chapter Contact Details:
P.O. Box 20053
Belleville, Ontario
K8N 5V1
E: chica-eo@cogeco.ca
NEWS ITEMS:
IPAC Eastern Ontario (IPAC EO)
NEWS & INFORMATION ARCHIVES
IPAC EO Awards Honorary Life Membership!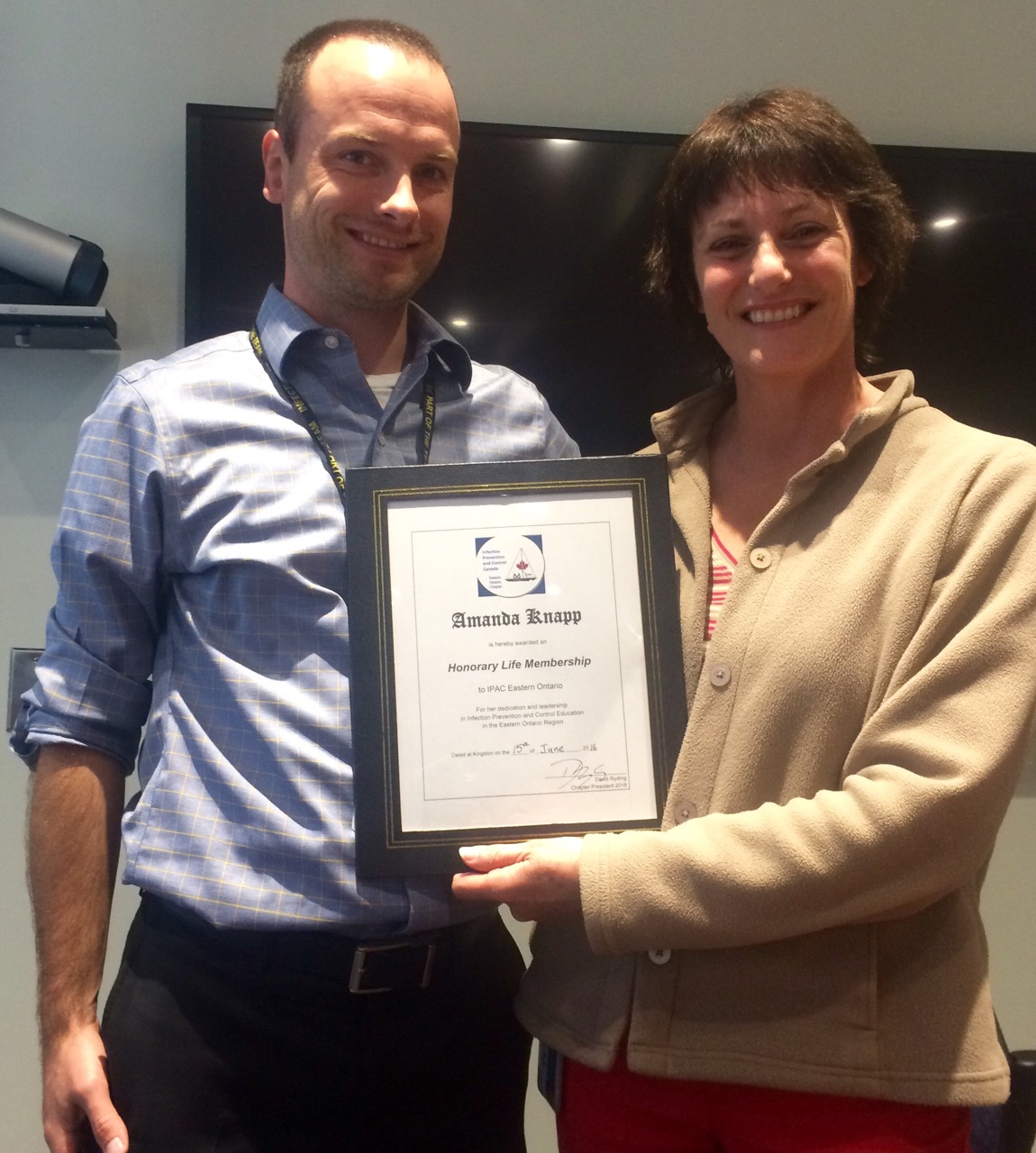 It is with great pleasure that we share the appointment of Amanda Knapp of KFL&A Public Health as honorary life member to the IPAC EO Chapter on June 15th, 2016. The appointment of honorary life membership recognizes individuals who have rendered outstanding service to the Chapter and the profession of IPAC and who have demonstrated sustained substantial and recognizable service beyond what normally would have been expected. With Amanda having continuous Chapter membership from 1997 to present; holding multiple positions on the Chapter executive; chairing several local conferences; being one of the first public health members of our Chapter to earn the credential of Certification in Infection Control (CIC); and supporting various educational initiatives, such as being an instructor for the Queen's University online IPAC course, it is clear that she met and surpassed the eligibility criteria!
Congratulations Amanda on being appointed to the illustrious club of IPAC EO honorary life members!
---
IPAC EO's 30th Anniversary 2016
The IPAC Eastern Ontario Chapter was founded on November 22, 1984 and received official IPAC Canada chapter status in June, 1986. In celebration of the chapter's 30th anniversary, an anniversary dinner was held at the Italo-Canadian Club on the evening of Thursday, June 2nd, 2016. All chapter members were invited, as well as all past presidents. Sponsorship of the evening was offered to our corporate chapter members and there were four sponsorships received – gold sponsorship from Sealed Air Diversey Care, silver sponsorship from Ecolab, bronze sponsorship from ArjoHuntleigh and a table sponsorship from Sealed Air Diversey Care. The evening was casual and cozy, with much time for socializing and sharing memories. A table highlighting our chapter's past events and photographs was available.
During dinner, members could watch a rolling slideshow highlighting our chapter's 30 years, produced by Sue Cooper. As a special addition, our most distant member, Jacob nkwan, was available by Skype to participate in the festivities. After dinner, there were speeches from our current President, David Ryding, Jacob nkwan, and our Founding President, Carol Whyman. Following this was our keynote speaker, Gerry Hansen, Executive Director of IPAC Canada. To wrap up the evening, cake was served, sporting our chapter logo.
All in all the evening was deemed to be successful in bringing our chapter members together in a spirit of sharing and back patting…we are an awesome chapter!
---
IPAC EO Education Day 2016
On Friday June 3, 2016 IPAC EO held its bi-annual education day at the Italo-Canadian Club north of Kingston. In celebration of our chapters 30th anniversary the theme of the day was "Infection Prevention and Control – Then and Now". We were honoured to have Gerry Hansen, executive director IPAC Canada, in attendance to bring greeting from our national organization.
The event was attended by 64 registrants from acute care, long term care, public health, community health and corrections. We were also delighted that 11 vendors were able to come and set up for the day to showcase their products to our attendees.
The education program covered a wide variety of topics including immunization, lyme disease, fecal transplant therapy, as well as other's. Everyone was able to take something home from every presentation.
It was a very successful day and the planning committee thanks everyone who was able to attend.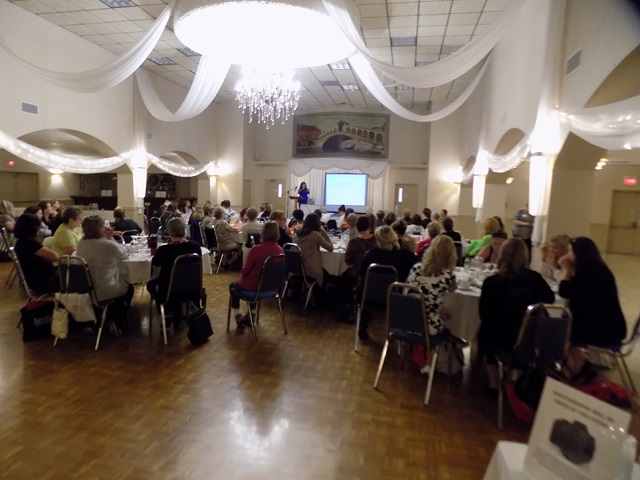 IPAC EO Awards Honorary Life Membership!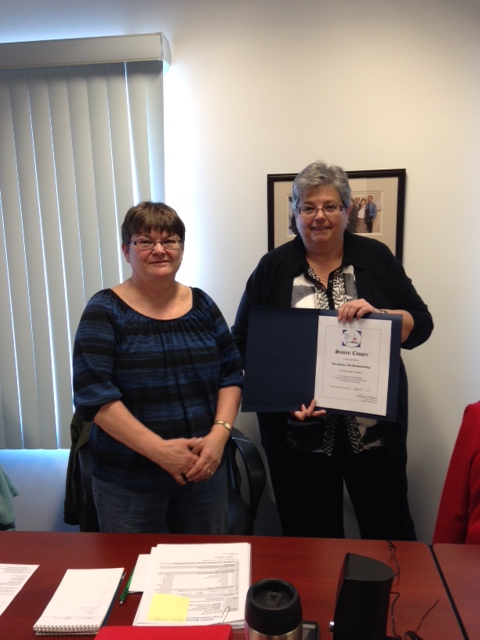 On April 21, 2014, a chapter honourary membership was presented to Sue Cooper. Sue has been an IPAC EO member since 2002. During that time she has held many positions in the chapter - awards coordinator, secretary and president. Sue is always available to assist us in whatever we are doing, whether organizing an event, helping our Cameroonian colleagues, or putting together our chapter award submissions. We have never had an educational event that did not benefit from Sue's participation and help. Sue's recent re-design of our logo is a good example of stepping in and offering to do something that is not related to her job, but does take some time and work for the benefit of the chapter. Her attendance at chapter meetings is exemplary and speaks to her interest and committment. Sue has been a rock to new members, cheerfully helping out whenever someone needs information or assistance with a problem. Her committment to preparing new ICPs for CIC certification has resulted in national recognition and she is currently the chair for a CIC prep day at the 2015 IPAC Canada conference. Congratulations Sue!
---
3M Award Won by IPAC EO!
Sue Cooper and her team submitted the chapter's winning 2014 submission for the 3M chapter achievement award, presented at the 2015 conference in Victoria. Congratulations to those who worked so diligently on this year's submission!
---
Our Most Distant Member!
Welcome to Jacob nkwangobte, our chapter member from Cameroon, West Africa. IPAC Eastern Ontario has sponsored Jacob to join IPAC Canada, which will provide resources to him for his work in Cameroon. We look forward to the day when Jacob can join us at a chapter meeting!
Go to the Cameroon Twinning Project web page.
---
IPAC EO's 25th Anniversary 2011
As we come to the end of our 25th year, we are left with wonderful memories of an eventful year:

April 14, 2011: We had a very successful Chapter 25th Anniversary dinner meeting, with guest speaker Anne Bialachowski, 2010 IPAC Canada President. Special guest, Gerry Hansen, Executive Director IPAC Canada. There was a silent auction table to raise money for the Cameroon Twinning Project, and many of our past members (the "Alumnae") were present. A great evening of reminiscing was enjoyed by all!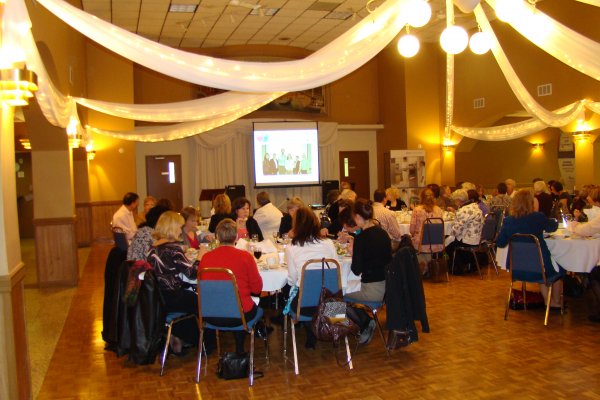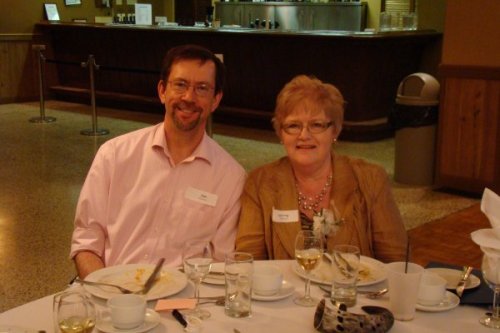 May 28 - June 2, 2011: IPAC EO had a table display at the annual IPAC Canada conference, promoting the chapter and the Eastern Ontario region, as well as our Twinning Project. There were raffles to raise money for the chapter and the sale of African art, which was brought from the Cameroon by Drs. Edith and Tom Welty. A photo of chapter members who were at the conference was taken.